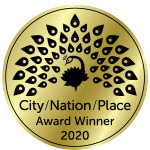 Tāmaki Makaurau Auckland entered the 'Place Brand of the Year' category for the annual City Nation Place awards for Tāmaki Makaurau Auckland is Calling. The entry showcased our place brand development work with Destination Think!, the Tāmaki Makaurau He Aratohu Auckland Playbook, our engagement with Auckland businesses, residents and stakeholders and how this has resulted in the creation of new imagery and video, this website, and viral content at a time where building our reputation as a city was more important than ever before.
We're excited to announce, and extremely proud to celebrate Tāmaki Makaurau Auckland's success as winner of the "2020 Place Brand of the Year" award at the 2020 City Nation Place Global congress.  
"The work showcased a clear, holistic approach that anchors the city's future vision in its authentic past, engages all stakeholders and provides a roadmap for recovery in tourism and economic development. "
This is a huge achievement for our city as a destination and recognises that our strong city brand is our platform to build our economy and worldwide reputation – driving further business and investment opportunities by putting Auckland top of mind and making sure we're known for the right things.   
Learn more about Auckland's place brand and get free resources to help you be a part of the Auckland story here.